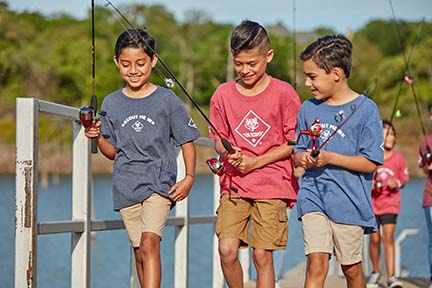 Brandon Kathman For Immediate Release:
Operations Marketing Lead 8/9/2022
(947) 886-5736
Scouting's local Michigan Crossroads Council has announced it will provide free fishing poles for
all who join its programs between Sept. 1 and Oct. 31, a giveaway they believe will make new
youth feel even more welcome in the organization.
"The 'Hooked on Scouting' initiative will equip scouts for their first of many adventures in
Scouting," Director of Field Service Aaron Craig said. "Fishing has always been a popular activity
at our camps, especially for our Cub Scout families."
According to Craig, registrants will receive their pole once a membership application is received
and receipted. The Michigan Crossroads Council welcomes both boys and girls in its five
programs: Cub Scouts (ages 5-11), Scouts BSA (ages 11-18), Venturing (ages 14-21), Sea Scouts
(ages 14-21) and Exploring (ages 14-21).
The council has secured a supply of 6,000 Zebco rod and reel combos, though they anticipate
placing a second order to resupply before the initiative concludes. Scouting in Michigan already
experienced a surge in new membership during the spring, registering almost 2,000 new
participants by June 30.
"We are so excited to continue growing our movement this fall," Craig said. "Scouting offers
unparalleled opportunities for young people as well as their families. Many organizations will take
children camping, but we empower them as the future leaders of this nation."
Much of the council's growth is concentrated in its Cub Scout program, which serves elementary-
age children and is intended to develop foundations in leadership, citizenship, and personal fitness
through family activities. According to Craig, the fishing pole giveaway coincides with the
beginning of the Cub Scout program year, an opportune time for new youth to join.
Craig suggested that interested families seek out "Join Scouting Nights," which are often
promoted through local elementary schools. Alternatively, information and contact information for
local units can be found at beascout.org.