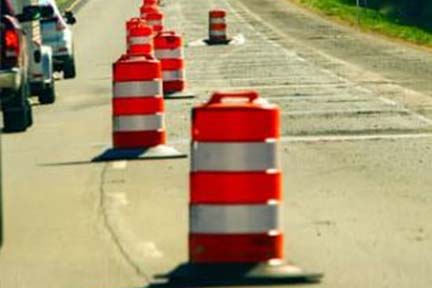 Gov. Whitmer Announces Orange Barrels Will Be Moved and Lanes Reopened to Ease Labor Day Weekend Travel  
"Labor Day weekend is a time to soak up the last few days of our Pure Michigan summer sunshine," said Governor Whitmer. "To ensure Michiganders can get to their destinations safely and on time, we're moving construction barrels and lifting traffic restrictions wherever we can. But next Tuesday, you better believe that we will be right back to fixing the damn roads. Since I took office, Michigan has fixed nearly 20,000 lane miles of road and 1,400 bridges, supporting over 118,000 jobs. I hope you all have a great, safe weekend!"
Beginning at 3 p.m. Friday, Sept. 1, and continuing until 6 a.m. Tuesday, Sept. 5, 93 out of 166 projects statewide will have lane restrictions removed. While motorists will see suspended operations in most MDOT work zones for the weekend, drivers are advised that equipment and certain traffic configurations may remain in place, like temporary shifts or shoulder closures.
Travelers are also reminded that, for safety and security, the Mackinac Bridge will be closed to public traffic on Labor Day from 6:30 a.m. to noon during the Annual Bridge Walk. Southbound I-75 and US-2 traffic will be stopped at Exit 344 on the north side of the bridge; northbound I-75 traffic will be stopped at Exit 337 on the south end. For more information, visit the Mackinac Bridge Authority (MBA) website at www.MackinacBridge.org/Walk or call the MBA at 906-643-7600.
"Another summer of significant investment in our roads and bridges is drawing to a close, but that doesn't mean the work is finished for the year," said State Transportation Director Bradley C. Wieferich. "Projects will continue on past the Labor Day holiday through the fall, including those projects made possible thanks to Gov. Whitmer's Rebuilding Michigan program. We ask all drivers to keep driving safely through work zones and follow all posted signs for their safety, their family's safety, and for road workers' safety. Slow down, stay alert and avoid distractions in all work zones. Everyone deserves to make it home each and every night."
MDOT oversees I, M, and US routes and is responsible for nearly 10,000 miles of state highways, which carry more than 50 percent of all traffic and approximately 70 percent of commercial traffic in Michigan.
The following is a list of work zones that will remain active or have lane restrictions during Labor Day weekend. If necessary, detour routes will be posted at the project location. All closures are subject to change. For the most up-to-date information on MDOT projects, go to the Mi Drive website at www.Michigan.gov/Drive.