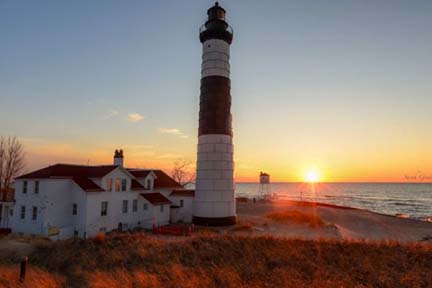 News Digest – Week of Sept. 25, 2023
Here are just a few of this week's stories from the Michigan Department of Natural Resources:

See other news releases, Showcasing the DNR stories, photos and other resources at Michigan.gov/DNRPressRoom.

PHOTO FOLDER: Larger, higher-res versions of some of the images used in this email are available in this folder.
Photo ambassador snapshot: Waiting out the fish
Want to see more pictures like this, taken by Michigan state parks photo ambassador Morgan Liskey at Tahquamenon Falls State Park in Chippewa and Luce counties? Visit Instagram.com/MiStateParks to explore photos and learn more about the photo ambassadors! For more on the photo ambassador program, call Stephanie Yancer at 989-274-6182.
Learn about wetlands, waterfowl at October open houses
 Whether you want to learn about waterfowl hunting opportunities, enjoy excellent wildlife viewing or hear about the benefits of healthy wetlands, October is the perfect time to discover Michigan's Wetland Wonders.

These are the premier managed waterfowl hunt areas in the state, created for exceptional waterfowl hunting opportunities and managed to provide waterfowl habitat for nesting and migration and for the benefit of other wetland wildlife. Since the start, the areas have been funded by hunting license fees and area use fees, but they are open for anyone to visit and enjoy most of the year.

Several of the Wetland Wonders will host open houses next month, giving visitors the chance to talk with local staff, tour the areas and see what each one offers for the upcoming waterfowl season. All open houses begin at 6 p.m. at the area's headquarters:

Open house information also is listed on the special events tab of each location's webpage.
Three unique ways to enjoy Michigan's fall color
Michigan's fall foliage is all the rage this time of the year, and we're sharing a few different ways to experience that red, orange and gold brilliance!

Leaf peepers in the western Upper Peninsula can catch bird's-eye views of stunning fall color on a chairlift ride in Porcupine Mountains Wilderness State Park (Ontonagon County). Need another reason? Ontonagon – home of the Porkies – was named among Country Living's "55 of the Best Fall Towns in the U.S. for Foliage."

The triple chairlift takes you to the top of the Porkies Winter Sports Complex's ski hill Saturdays and Sundays through Oct. 14; rides are available noon to 6 p.m. EDT. All you need is a Recreation Passport for vehicle entry to the park and a $10 (per person) lift ticket. Children 10 and under ride free, but must be accompanied by an adult.

At three state parks, specially adapted EnChroma lenses help those with colorblindness more easily see the entire color spectrum. Viewers are available at three locations in Porcupine Mountains Wilderness State Park, and single locations at Ludington State Park (Mason County) and William G. Milliken State Park and Harbor (Wayne County).

"The goal of EnChroma viewers is simple: to expand access to the outdoors," said Mike Knack, Porcupine Mountains Wilderness State Park manager. "With the help of these special lenses, we hope people with red-green colorblindness can enjoy the beauty of nature's color palette more distinctly."
Zip through fall foliage at 25 mph on the Michigan Luge Adventure Park's zip line in Muskegon State Park (Muskegon County).

Soar over the tree canopy, sand dunes and luge track before descending into the white pine and oak forest. The zip line operates Saturdays and Sundays 10 a.m. to 5 p.m. through Oct. 22.

Wherever fall color takes you, visit for the day or the weekend! Plan camping and overnight stays by making an advance reservation at MiDNRReservations.com or 800-447-2757.
Oct. 3 webinar: Choosing resilient trees for urban areas
Ash, elm and chestnut trees once were as common in cities as the streets that bear their names. Unfortunately, invasive species, disease and poor tree species selection have resulted in tree canopy that is much less diverse than it used to be. The good news is there's plenty of guidance to help you make the right planting selections for your neighborhood or downtown space!

Mark your calendar for 9-10 a.m. (EDT) Tuesday, Oct. 3, and register for "Where the Sidewalk Ends: Choosing Resilient Trees for Tomorrow's Urban Environments" – the next webinar in Michigan's #NotMiSpecies series, aimed at helping people understand the threats posed by invasive plant and animal species and actions that can help limit the spread of those species.

In this webinar, DNR urban forester and partnership coordinator Lawrence Sobson will talk about ideal tree species and assessing urban sites for planting and growth, and share tips to ensure the trees you choose can live for the next hundred years.

If you can't catch the webinar live, don't worry; recordings of all #NotMiSpecies webinars are available to watch online at your convenience. More than two dozen recordings – on topics ranging from "Vampires of the Great Lakes" (sea lamprey) to "Lobster Mobsters" (red swamp crayfish) and "Yooper Troopers (controlling phragmites) – are available at Michigan.gov/NotMiSpecies.
Spooky specters, lurking lutins await at Fort Fright Oct. 6-7
If your early October plans include time near Mackinaw City, add Fort Fright to your list of fun things to do with family and friends!

Friday and Saturday, Oct. 6-7, from 6:30 to 9:30 p.m., start with a lantern-lit walk along the shore of Lake Michigan to Colonial Michilimackinac, and then experience 18th-century French-Canadian folklore coming to life: All manner of monsters (and a few werewolves and lutins!) take over the fort and eagerly await your arrival inside. Campfires glow and voyageurs spin eerie tales and warn you of the terror that might await behind the guarded gates …

Read the full Mackinac State Historic Parks news release for all the spooky specifics about Fort Fright.
Want to weave a pair of traditional wooden snowshoes or field-dress and prep your own venison? Check out upcoming Outdoor Skills Academy classes!
Special-event permits, ORV safety certificates, retail bait shops, bear hunting applications – whatever you're looking to buy or apply for, start here.