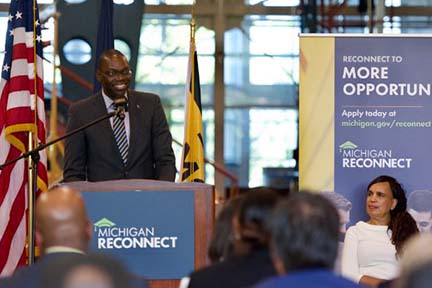 Lt. Governor Gilchrist Highlights $55 Million Expansion of Michigan Reconnect Program to Provide Tuition-Free Higher Education and Skills Training
FLINT, Mich. – Today, during an event at Mott Community College, Lt. Governor Garlin Gilchrist touted the bipartisan Fiscal Year 2023 budget's inclusion of $55 million to fully fund the Michigan Reconnect program and encouraged working-age Michiganders to join the more than 100,000 people who in the last 18 months have taken the first step towards earning a college degree or skills certificate through the Michigan Reconnect program.
"I am proud to celebrate the historic progress we have made helping more Michiganders get tuition-free education and skills training," said Lt. Governor Garlin Gilchrist II. "In the 18 months since we launched Michigan Reconnect, we have seen more than 100,000 people accepted into the program and provided ongoing funding through next year's state budget. Those are big wins, but the biggest winners are the hardworking Michiganders taking advantage of this trailblazing program. Governor Whitmer and I are grateful to our legislative partners and Reconnect advocates for their hard work, and we will continue working with anyone to create opportunity for Michiganders in every community."
The Michigan Reconnect program, which provides free or reduced community college tuition for students 25 and older who have not yet earned a degree, was launched in February 2021.
Lt. Governor Gilchrist was joined by Department of Labor and Economic Opportunity's Office of Sixty by 30 Director Sarah Szurpicki, Mott Community College President Dr. Beverly Walker-Griffea, Flint and Genesee Group COO Kristina Johnston, and Michigan Reconnect students Kai Washington and Jennifer Cronkright.
"The Michigan Reconnect program is all about helping people achieve their dreams," said Sen. Ananich. "As the Democratic leader of the Michigan Senate, I am proud to be part of the bipartisan effort to help remove barriers and ease the way for adult learners on the road to achieving their higher education goals. Whether you're right here at Mott or another one of our excellent community colleges around the state, opportunities are available to you. Folks deserve our support as they look to maximize their career potential and area employers need programs like Michigan Reconnect to bring more highly skilled workers into their businesses."
The event's aim was to highlight how programs such as Michigan Reconnect and Futures for Frontliners are creating a rewarding path to in-demand careers for Michiganders and to encourage more participation in the Michigan Reconnect program.
"As a state, we're obviously focused on the economic benefits of education: to individuals, their families and their communities," Szurpicki said. "But what we hear from our Reconnect students is that the benefit goes far beyond the economic impact. They set out to accomplish something difficult, and they feel pride. They feel hopeful. They feel confident. And their families feel proud of them, too. And I believe those rewards, while harder to measure, will continue to benefit them throughout their lives. We need to encourage even more Michiganders to start on the road to higher earnings and a more secure future."
Dr. Walker-Griffea praised the Reconnect and Futures for Frontliners programs as vital in overcoming the barriers that often stand in the way of a college education for so many adult students. She pointed to the growing number of enrollees at Mott Community College. Since the programs began, the college has enrolled 1,094 Reconnectors and 1,142 Futures for Frontliners participants.
"Our mission here at Mott Community College is to provide high-quality, accessible and affordable educational opportunities that cultivate student success and improve the overall quality of life in our multicultural community," Walker-Griffea said. "We continue to make great strides in that endeavor, and our partnership with the Michigan Reconnect and Futures for Frontliners programs has added significantly to that growth."
Johnston praised Michigan Reconnect and the new investment as vital to economic growth in the Flint and Genesee County area.
"The Flint and Genesee County area prides itself on the reliability and adaptability of our talent pool," she said. "We know that a strong talent pipeline is a key factor in retaining good jobs in our community and growing new ones by attracting investment. The continued investment in, and enhancement of, Michigan Reconnect represents a critical piece of strengthening that pipeline."
Jennifer Cronkright, a married mother of three grown children, and her family understand the value of the Reconnect program. At 45, Cronkright always had her sights set on a college education. But life repeatedly got in the way. Her education was first derailed shortly after high school when illness forced her to drop out of college. Later, financial considerations and a need to put family first prevented Cronkright from going back to college.
"Life happened," Cronkright said. "I didn't have the money to go back to school. That was a huge factor. I had been trying to go back to school and there was just roadblock after roadblock."
Then Michigan Reconnect came along, giving Cronkright what she called, "a second life."
Kai Washington, 27, also credits Michigan Reconnect with changing her life.
Her college dreams were dashed after she suffered several major medical problems, the loss of her infant son and mounting educational debt.
While she was recovering from a stroke, a friend suggested she look into Michigan Reconnect — and that has made all the difference. She plans to open a soup kitchen focusing on food justice after she graduates with a degree from Mott in culinary arts.
"My journey in culinary is nontraditional, just like my life," Washington said.
Lt. Governor Gilchrist also highlighted $6 million in grant funding now available to help cover other costs that often keep adult learners returning to college or enrolling for the first time.
The new grants, which will be distributed by the state's community and tribal colleges, can be used for books, childcare, internet access and transportation to help students pursue associate degrees or skills certificates. Mott Community College and other eligible institutions can distribute the allocated funds directly to eligible students who have completed at least one semester with their scholarship program – with as much as $550 available per student per academic year.
To be eligible for the grants, students must:
Be Michigan Reconnect or Futures for Frontliners scholarship participants.
Have completed at least one semester within the respective scholarship program they are participating in.
Be enrolled already or be in the process of enrolling for a qualifying semester.
The wraparound grants build on Michigan's network of people and resources in place to provide students with the critical support they need to successfully enroll in classes and complete a Pell-eligible skill certificate or associate degree program.
To help Reconnect students succeed with the steps leading up to enrolling with a community college, the state's Reconnect Navigators are available to help applicants complete admissions and financial aid requirements, set career goals, identify relevant educational opportunities and create a plan to graduate. Navigators reach out to students after they have been accepted into the Reconnect scholarship, and will also connect students to additional programs and assistance offered by their community college and local partners to remove barriers to education.
Since Michigan Reconnect launched, over 100,000 Michiganders have been accepted into the scholarship program and more than 18,000 have enrolled in a community college, helping to drive success toward Gov. Whitmer's Sixty by 30 goal of having 60% of Michiganders with a postsecondary degree or skills certificate by 2030. In Genesee County alone, there have been approximately 5,700 Reconnect applicants accepted into the scholarship program.
Michigan Reconnect is the largest effort in state history to ensure that Michiganders who are 25 or older and do not have a college degree have an opportunity to earn an associate degree or skills certificate with free or deeply discounted tuition.
Michigan Reconnect pays the cost of in-district tuition for eligible adults who want to pursue an associate degree or skills certificate at any of Michigan's public community colleges, including its three tribal colleges. Eligible residents can attend community college tuition-free at a community college where they are considered in-district. For those who are not considered in-district by a community college, Michigan Reconnect will still cover up to the in-district portion of tuition.