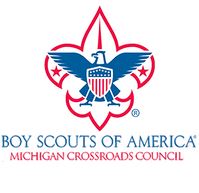 Scouting delegation presents report to state legislators
Scouting's Michigan Crossroads Council held its first ever "Scout Day at the Capital" in Lansing on June 23. 
Written by Jesse Quintana
Scouts from all over Michigan attended to represent the organization at the state legislature. The event included activities like archery and rock climbing on the lawn as well as a free lunch.
Over 500 scouts flooded the grounds from 10:00 a.m. to 3:00 p.m. Throughout the day, scouts entered the capital building and took hour-long guided tours. The tour took scouts through all five floors. The floors had many educational features, including portraits of former governors and a room full of past state flags. 
"I think scouts can learn a lot about our state government," Council CEO Don Shepard said of the event. "Whatever these scouts participate in, they're bound to learn a little bit of something."
At 11:30 a.m. twelve youth delegates selected from across the state assembled at a podium on the capitol steps. They expressed how the Scouting movement has changed their lives and the lives of others around them. 
"Scouting does truly care about how their nation is and how it's running," Vivien Burke of Waterford Troop 185 said. "They care about the future, and the younger scouts are definitely the future. Showing them how everything works and runs will definitely teach them." 
After the speeches, scouts dispersed across the lawn to participate in other activities. One of the more popular activities was the rock climbing wall. Scouts went head-to-head with politicians in the "challenge a scout" competition. 
Another activity was archery. The inflatable range used bows with foam-tipped arrows. The targets were plastic balls suspended by air streams. There was a science table with many experiments that the scouts could conduct. There were balloons that scouts would fill by running and rockets that would run on water and "fizz tablets."
After the speeches, a hotdog lunch was provided to all in attendance. According to the scouts, it was a great experience that also showcased the institution's functions.