Hi there,

Last week was one of our favorite events of the year: the reception and awards ceremony for the Congressional High School Art Competition. Every spring, we solicit entries from students who either live or attend high school in the district. They are able to submit paintings, drawings, photography, even digital art, and it's judged by a panel of professional artists and art educators who decide the top five.

This year, we received entries from 63 students at 19 different high schools across the 7th District, and the judges really had their work cut out for them! All the artwork was on display at MSUFCU headquarters, where families, friends, teachers, and community members were able to stroll through and appreciate how talented these student artists are.
After evaluating the record number of entries, this year's judges selected "Homestyle," by Okemos High School student Emma Li, as the winning piece. The oil painting depicts Emma's grandfather cooking in his kitchen, as seen through the doorway of the home.
The judges and Congresswoman Slotkin were struck by the attention to detail and maturity of execution in this piece, remarking that it was reminiscent of classical works. Li, a sophomore at Okemos High School, will attend a national reception this summer in Washington, D.C. along with all of the 2023 winning artists from across the country, and her piece will hang in the U.S. Capitol for the next year.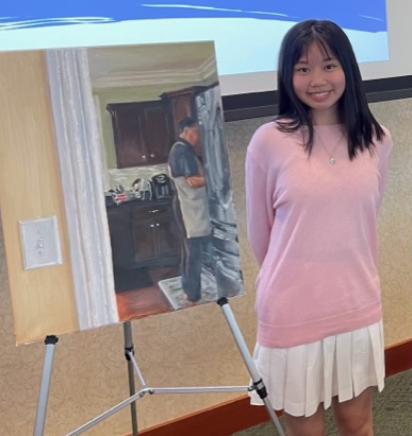 Congresswoman Slotkin said she can't wait to see Emma's artwork on display, and offered her thanks and praise to all of the students who shared a piece of themselves through their artwork and this competition.
The judges also selected several honorable mention pieces. The second place piece, "The Lute," by Hartland High School student Breanna Zaborowksi, will be showcased in the Congresswoman's Washington, D.C. office, while the third place piece, "Friendship" by Brighton High School student Caitlyn McKenzie, will hang in her Lansing district office. The pieces selected as 4th and 5th place will hang in the visitors' area of her district office. The 4th place piece is "Growth" by Janelle Ostrowski of Lansing Catholic High School, and the 5th place piece is "Time Out" by Seraphim Rose Prince from Everett High School in Lansing.
This year, the Congresswoman also awarded a special prize called the "Spirit of the 7th District," and selected Lilliana Collins of Holt High School as the inaugural winner. Lilliana's comic strip depicted the impact of the February 2023 mass shooting at Michigan State University, which her brother attends.
Clockwise from top left: Breanna Zaborowski (2nd place, "The Lute"), Caitlyn McKenzie (artist not pictured, 3rd place "Friendship"), Janelle Ostrowski (4th place, "Growth"), Seraphim Rose Prince (5th place, "Time Out), Lilliana Collins (Spirit of the 7th District, "Spartan Strong") 
The Congressional Art Competition has been in existence since 1982 to provide an opportunity for Members of Congress to encourage and recognize the artistic talents of young people living in their districts. To date, nearly 700,000 students have participated in the competition.
If you have an artist in your house, we hope they'll consider entering next year! Look for information here and on our website in early spring 2024. And if technology is more your speed, there's always the Congressional App Challenge, which will be launching soon.
– Office of Rep. Elissa Slotkin