Brandon Kathman
District Executive
947-886-5736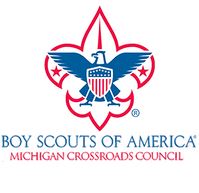 Prospective Eagle Scouts complete service projects at Agawam
Brooke Muzzy, a scout with Troop 185G in Clarkston, cleared new paths and installed benches along the lakefront at Orion Township's Camp Agawam, fulfilling the community service requirement for the rank of Eagle Scout.
With the final criteria met, it is almost certain that Muzzy will be the first female Eagle in Scouting's local Pontiac-Manito District since the movement began welcoming female participants in 2019. The rank is Scouting's highest honor, achieved by only 4% of youth in the program.
"It means everything to me," Muzzy said. "I wanted to be part of it ever since I was six years old and my brother joined Cub Scouts. When I was fifteen, we formed Troop 185G; two and a half years later, here I am."
Her project transformed much of the Tommy's Lake waterfront at Agawam. While access was previously limited to a small footpath to the swim area and fishing dock, Muzzy's project established new trails to the water's edge, providing patrons with a new opportunity to experience the lake's natural beauty. Furthermore, the scouts took special care to remove invasive plant life from the area.
"Behind the scenes there was fundraising and budgeting and paperwork," Muzzy said. "There's always more behind the scenes."
Muzzy said she learned many lessons over the course of her project, foremost among them that it's ok to ask for help or advice. Dozens of fellow scouts from several different troops attended her workdays. Casey Houlihan of Troop 128, a candidate for the Eagle rank himself, expressed that he was glad he could support her as a fellow scout. 
"I just think it's cool to see that girls are now recognized for doing the same things we've been doing," Houlihan said.
Wayne Beutler, who has served as scoutmaster for Troop 185G since its founding, expressed pride in Muzzy, noting that she displayed indomitable persistence throughout her time in Scouting.  
"Brooke is one of the founding members of our troop," Beutler said. "From the beginning, she has been a role model for the other girls. Being the first female Eagle Scout in the district is quite a distinction, and I am thrilled that Brooke was able to accomplish this while enjoying the adventure, learning so much, and actively giving back."