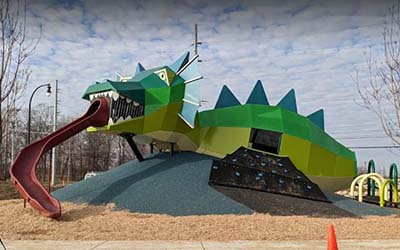 CHARTER TOWNSHIP OF ORION 
OFFICE OF THE SUPERVISOR 
CHRIS BARNETT 
FOR IMMEDIATE RELEASE CONTACT: Jenny Bhatti 248-391-0304 ext. 1003 
jbhatti@oriontownship.org 
ORION TOWNSHIP HOLDS RIBBON CUTTING FOR THE  
PLAYFUL DRAGON 
What: Orion Township holds ribbon cutting event in celebration of the opening of the Playful  Dragon Pocket Park. 
Who: The public is invited and encouraged to attend this event. Weather permitting, Menchie  from Menchie's Frozen Yogurt will join in the celebration! 
When: Tuesday, May 4, 2021 
11:30 a.m. 
Where: Baldwin and Jordan Roads. 
Parking is available along Jordan Road or in Menchie's parking lot. Please do not park at  La-Z-Boy. 
Why: Orion Township Supervisor Chris Barnett and Parks & Recreation Director Aaron  Whatley are excited to extend this invitation to the community so we may celebrate  together the opening of the new Playful Dragon Pocket Park. The Playful Dragon Pocket  Park is one of soon to be two Pocket Parks located along the newly transformed Baldwin  Road corridor. This unique statute/playspace was made possible in part with a $65,000  Play Everywhere Challenge grant from KaBOOM! and the Built to Play initiative  supported by the Ralph C. Wilson Jr. Foundation, in addition to $65,000 of in-kind work  and materials provided by Pulte. 
Contact: For additional information please contact Jenny Bhatti, 248-391-0304, ext. 1003,  jbhatti@oriontownship.org