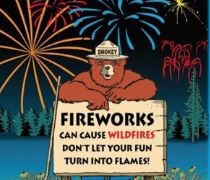 News Digest – Week of June 29, 2020
Some of the items in this week's news digest reflect the impact of COVID-19 and how the Michigan Department of Natural Resources is adapting to meet customers' needs. Public health and safety are our biggest priorities, and we will continue to share news and information about the safest, and sometimes new, ways to enjoy our state's natural and cultural resources.

Follow our COVID-19 response page for FAQs and updates on facilities and reopening dates. For the latest public health guidelines and news, visit Michigan.gov/Coronavirus and CDC.gov/Coronavirus.

Here's a look at some of this week's stories from the Department of Natural Resources:

See other news releases, Showcasing the DNR stories, photos and other resources at Michigan.gov/DNRPressRoom.

PHOTO FOLDER: Larger, higher-res versions of some of the images used in this email are available in this folder. The fireworks photo above courtesy of Nicolas Tissot and the laptop photo below courtesy of Lauren Mancke, both on Unsplash.
Celebrate the Fourth with light, but don't light a wildfire
Boom! Sparkle! Pop! Flash! Glittering fireworks lighting up the night sky are a signature of the Independence Day holiday. And though beautiful, if handled without care they have the potential to ignite dangerous wildfires.

Fireworks cause nearly 18,500 fires a year in the U.S., burning structures and injuring people. Organizations like the National Safety Council recommend leaving fireworks in the hands of experts. No matter who is using fireworks, some simple swaps can help to keep the celebration fun and reduce risk. For example, sparklers are often given to young children but can burn up to 3,000 degrees Fahrenheit. Glow sticks, bubbles and ribbon dancers are safer alternatives.

"If fireworks are part of your celebration, take precautions to prevent wildfires and keep friends and family safe from accidents," said DNR fire prevention specialist Paul Rogers. "Keeping an eye on the weather is important, too. Dry days with high winds are the riskiest."

Follow these tips to reduce risks with at-home fireworks:
Toss hand-held fireworks such as sparklers into a bucket of water when finished.
Keep a water source ready to spray embers from fireworks. Spray the entire area where you've been using fireworks with water when done.
Don't try to re-ignite fireworks that won't go off.
Don't launch fireworks into forests or fields. Dry grass or leaves could ignite.
Always supervise kids and keep fireworks away from your face and eyes.
Sky lanterns, also popular on holidays, can start wildfires, too. The wires they leave behind can also entangle wildlife.
Aerial fireworks such as Roman candles and all types of sky lanterns are prohibited in state parks. (An extra safety reminder: Though many people like to swing by state parks just to catch nearby evening fireworks displays, this year the DNR will close state park day-use areas at 10 p.m. to help reduce crowds.)
Planning to get some yard work done over the long weekend? Check Michigan.gov/BurnPermit to see if conditions are okay to burn brush and yard waste.
Remember to practice effective social distancing of at least 6 feet from people who don't live in your household.
Learn more about fire prevention and safety at Michigan.gov/PreventWildfires. Questions? Contact Paul Rogers at 616-260-8406.
Remove food sources to reduce potential for bear conflicts
Bird feeders can attract a lot more than local winged friends or the errant squirrel. They also can draw much larger creatures – like Michigan's black bear – looking for a tasty treat. Black bears are omnivorous, opportunistic feeders, despite the abundance of available natural food sources, and bird feeders and garbage cans contain odors that can lure bears to backyards and camping areas in search of an easy meal.

To avoid potential conflicts with black bears, consider taking down bird feeders and removing other food sources like pet food, trash cans, grills and anything else that might contain food debris or odors. Protect honey bee hives with electric fencing.

Bears remember where to find food sources and will return if food is available. Bears that rely on these sources can encounter people, and that repeated exposure can cause them to lose their natural fear of humans.

"It's important that these creatures maintain their natural instincts and remain wild, because getting too close to humans can have dangerous consequences for them," said DNR wildlife outreach coordinator Rachel Leightner. "Those of us who live and recreate in Michigan's bear country share the responsibility of avoiding activities that create problem situations for bears."

To learn more about Michigan's black bear and how to be Bear SMART, visit Michigan.gov/Bear. Additional tips and information on how to handle conflicts with wildlife are available at Michigan.gov/Wildlife.

Questions? Contact the DNR Wildlife Division at 517-284-9453. Media contact: Rachel Leightner, 517-243-5813.
Majority of DNR's July public meetings held virtually
Every month, the DNR holds public meetings around the state to provide Michigan residents with opportunities to share ideas and ask questions about policy decisions, programs and other aspects of natural resources management and outdoor recreation. With COVID-19 public health and safety in mind, the DNR has changed some July meetings to conference calls and virtual meetings. Upcoming meetings include:

Conference call phone numbers and access codes and other details are still being confirmed, so frequently check the DNR boards, commissions, committees and councils webpage for updates. If you need assistance connecting with a DNR program or public body not listed there, contact [email protected].
ICYMI: Set up a video chat with Archives staff
Since the Archives of Michigan closed to the public in March, staff there have been assisting researchers over the phone and by email. In case you missed it, they've introduced a new service: video conferencing. These one-on-one appointments allow researchers to talk to an archivist, ask questions or request specific records.

"The current health crisis pushed us to think differently on how to continue personalized customer service," said Mark Harvey, Michigan's state archivist. "The benefits of virtual reference will outlive its short-term need. These online meetings allow researchers to get valuable information, especially for those who cannot otherwise make a visit in person."

While more than 10 million records and over 9 million photographs are available online at the Michiganology website, there are still more to be digitized. If you're looking for naturalization records, photos, military records or one of the Archives' 50,000+ cartographic images, you can schedule a virtual appointment with an archivist by visiting the online appointment reservation system or calling 517-335-2576.

The image above of an 1839 map of Michigan is in the Archives of Michigan collections and is available as reproduction prints and puzzles at the Michiganology.org store.
Just a reminder that you once again need the Recreation Passport for vehicle entry at state parks, state forest campgrounds and state-managed boating access sites.
Itching to get your boat on the water this holiday weekend and all summer long? Stay up to date on safety tips and high-water warnings so it's an enjoyable time for everyone aboard.
DNR COVID-19 RESPONSE: For details on affected DNR facilities and services, visit this webpage. Follow state actions and guidelines at Michigan.gov/Coronavirus.