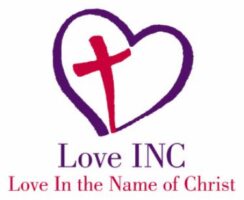 Covid Donations
Dear Love INC supporter,
Your community urgently needs your help.
Today we are faced with a crisis that is wide and fast moving. Many families have lost their incomes, access to food and support services.  Families who live in your neighborhood.
At Love INC, we oversee a central clearinghouse that receives, screens, clarifies and analyzes needs as well as tries to gain an understanding of client challenges and histories.  Over the past twelve months our Clearinghouse has taken over 4300 calls and met 3180 needs through over 2000 volunteer hours. Love INC has developed a working knowledge of community resources to help your neighbors in need with food, clothing, household items, and financial assistance.  We expect these numbers to grow substantially over the next few months.
This week we have received calls from neighbors like Jenna , who is pregnant and has 2 small children. Like many of our neighbors, Jenna lives paycheck to paycheck. She is not working due to the many shutdowns from the COVID-19 virus. Without a paycheck she, is unsure of how she will pay her rent, feed her family and care for a newborn on the way. We are seeing an increase of calls like this every day. Love INC counts on your support to continue to meet the needs of your neighbors.
Your donations make a meaningful impact in your community.  Without these donations, serving those in need would not be possible.
You can help now without leaving your home:
Donations made on our website: www.loveincofnoc.org  click "Donate"
Donations can be mailed to:
Love INC of North Oakland County
P.O. Box 104
Lake Orion, MI.  48361
Thank you and God's Blessings to you and your family during this unprecedented time.
Patricia Duke