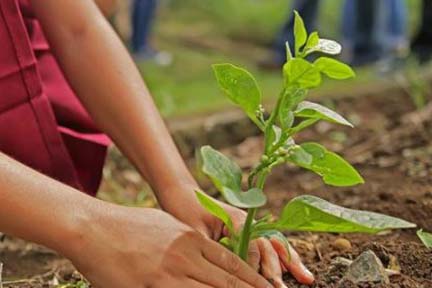 DNR News
Oct. 9, 2023
Contact: Kevin Sayers (DNR), 517-582-3209 or Joelle Kruczek (DTE Energy), 586-805-0146
Partners award more than $100,000 for 29 tree planting projects 
New trees – 1,275 of them! – are coming to 29 Michigan communities courtesy of a partnership awarding DTE Energy Foundation Tree Planting Grants. Awards totaling $102,545 will help communities and organizations in Michigan add trees to streets, parks and other public spaces.

Funding and technical support are provided through a 27-year partnership of the Michigan Department of Natural Resources, DTE Energy Foundation and ReLeaf Michigan.

See which communities received tree planting grant awards. The grants will help purchase a variety of trees to be planted this fall or next spring.

"Trees make our communities and neighborhoods beautiful, healthy and vibrant places," said Kevin Sayers, DNR Urban and Community Forestry program coordinator. "This program promotes planting the right types of trees in the right places to ensure they stay healthy and provide benefits for all."

The ongoing partnership between the DTE Energy Foundation, the DNR and ReLeaf Michigan aims to support and engage cities, schools, nonprofits and other community-based organizations in caring for the environment, beautifying neighborhoods and properly planting trees away from utility infrastructure.

"ReLeaf Michigan and the Michigan DNR play a crucial role in maintaining, protecting and expanding our state's natural resources, including urban forests," said DTE Foundation President Rodney Cole. "The DTE Foundation is thrilled to be part of that mission and to see how these new plantings benefit communities."

Project proposals are solicited annually from eligible partners around the state. The next opportunity to apply is summer 2024.
The DNR's Urban and Community Forestry Program helps communities promote and manage trees and forests by providing education, financial support and technical assistance. To learn about the UCF program, visit Michigan.gov/UCF or contact Kevin Sayers, 517-582-3209.
ReLeaf Michigan is an organization that shares the value of trees and how to select, plant and maintain them. Organizations interested in volunteer tree planting or educational events may visit ReleafMichigan.org, email ReLeaf Michigan or call 800-642-7353 to learn more.
The DTE Energy Foundation is the philanthropic arm of DTE Energy. In 2022, the Foundation provided more than $15 million in grant support to over 300 nonprofits. Visit DTEFoundation.com to learn more.