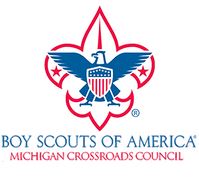 Brandon Kathman FOR IMMEDIATE RELEASE:
Sr. District Executive & Operations Marketing Lead 4/10/23
[email protected]
947-886-5736
Lake Orion Volunteer Honored by Michigan Scouts
The Boy Scouts of America's Michigan Crossroads Council awarded a Lake Orion volunteer with
their highest honor, the Silver Beaver medal, during the local district's annual banquet on April 8.
Troop 128 Assistant Scoutmaster Tom Houlihan stood before his family and fellow "Scouters" as
Jennifer Sanker, a vice president for the state-wide council, presented him with the medal. To be
considered for the honor, volunteers must demonstrate exceptional character, extraordinary service
and be nominated by their peers. Furthermore, the council can only grant a few each year.
A keystone of the Scouting movement in Oakland County, Houlihan was recognized for his role at
the council level as well as within his troop, most recently creating the Emergency-o-ree campout
in October of 2022. Held at Camp Agawam, the event utilized partnerships with first responders to
teach several hundred Scouts about emergency preparedness.
"I wasn't expecting it," Houlihan said of the award. "It's a huge honor, and I'm humbled to be a
part of the team. All I can do is continue working and try to live up to it."
Houlihan works as a deputy sheriff with Oakland County assigned to corrections. He has raised
three sons, all of whom earned the rank of Eagle Scout, including Casey Houlihan, 19, who
received his rank in 2022.
"Scouting is a way for him to help the youth and set them on a good track," Casey Houlihan said.
"He has always joked with the kids, 'I'm in Scouting so I don't have to meet you professionally.'
It's just his passion; he has loved it for years."
Other Lake Orion volunteers earned local awards from the council's Pontiac-Manito District,
which spans much of Oakland County. Mikah Wisner of Pack 186 at St. Joseph Catholic Church
received "Cubmaster of the Year" for his role in rebuilding the unit. During the 2022 program
year, Wisner's recruiting efforts took the pack from a dozen youth to over 50 participants.
The district awarded "Scoutmaster of the Year" to longtime volunteer Derek Krentz of Troop 284
at King of Kings Lutheran Church. The troop has remained one of the largest programs in Oakland
County, even during the pandemic. Krentz earned praise for his mentorship and support of the
young men in his troop.
Finally, Patrick Cox of Pack 128 at St. Mary's in the Hills received the District Award of Merit for
facilitating monthly "roundtables," which bring together Cub Scout leaders from across the district
to network and share ideas.
Picture 1: Scouts practice the firemen's carry during the 2022 Emergency-o-ree, a brainchild of Houlihan's.
Picture 2: Houlihan embraces his wife, Jewel, as sons Casey and Cullen join the crowd in applause.
Picture 3: Scoutmaster Derek Krentz receives the Scoutmaster of the Year Award from District Commissioner Lonny Johnson (left) and District Chairman Dane Bezemek (right).
Picture 4: Mikah Wisner shakes the hand of District Chairman Dane Bezemek as he receives the Cubmaster of the Year Award.
Picture 5: Patrick Cox receives the District Award of Merit from Chairman Dane Bezemek.
Picture 6: The Silver Beaver Award may only be presented for individuals who have demonstrated years of exceptional service.