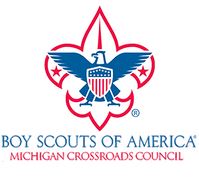 Brandon Kathman FOR IMMEDIATE RELEASE:
Sr. District Executive & Operations Marketing Lead 1/24/2023
[email protected]
947-886-5736
Scouts' Competition Adapts to Warmer Winter
Local Scouts held their annual winter "Hodag" competition with over 220 participants on Jan 21;
this was accomplished in spite of abnormally high temperatures and a lack of snow at Camp
Agawam in Lake Orion.
The event, which is modeled after the Alaskan Iditarod sled race, pits Scout troops in friendly
competition as they travel between stations designed to test their skills. Hosted by the youth of
Scouting's honor society, the Order of the Arrow, the event requires troops to stow their gear in a
sled dragged from station to station.
"The planning for this year's Hodag was different than before," Chapter Chief Teo Gammons, 17,
of the Order of the Arrow, said. "We brought new activities to the event. People had fun, even
though the sled race had to be modified."
Temperatures in the upper 30s and a series of atypical rainstorms left the campgrounds damp and
muddy for an event typically reliant on snow. However, according to Gammons, the Scouting
program teaches youth to innovate and overcome new challenges.
Many troops outfitted their sleds with wheels to become chariots of sorts, ensuring their use would
still be possible, even on a muddy field. Order of the Arrow members took turns carrying their
mascot, "Manny," a 50-pound stuffed moose, in the races as an unofficial competitor; when the
youth became tired, several adult volunteers stepped up to carry the oversized plush animal.
"Hodag is an event I look forward to every year," Anthony Goatley, 16, of Lake Orion Troop 284,
said. "The energy is wonderful, and it's always nice to see some old friends."
Saint Clair Shores Troop 1407 ultimately carried the day, winning the competition. However,
according to one local Scout, Manny was just a "different kind of winner."
According to Field Director Bob DeWar, the success of the event in spite of uncooperative
weather conditions speaks to the resilience of the youth leadership.
"We are so proud of the amazing young people who step up and lead their own adventures in
Scouting," DeWar said. "This was another great event, and the high attendance speaks to the trust
our movement has in its young leaders."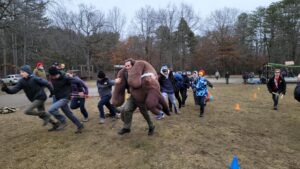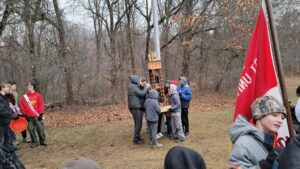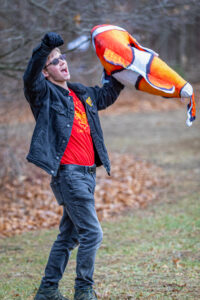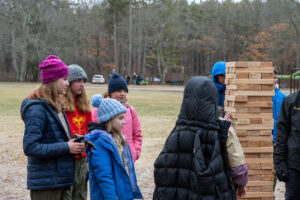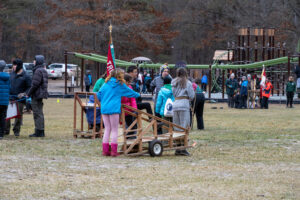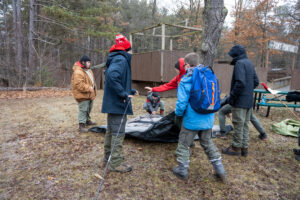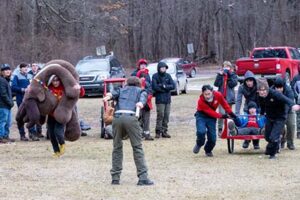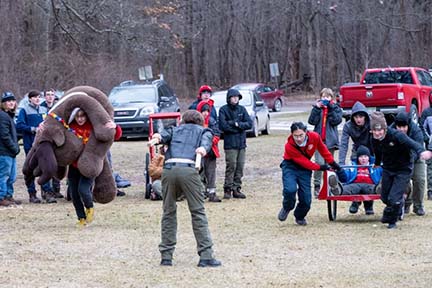 Picture 1: Clarkston Troop 189 races in a grudge match against Manny the Moose, carried by local executive Brandon Kathman.
Picture 2: Troop 1407 are named winners of the 2023 Hodag competition.
Picture 3: Lake Orion Scout Liam O'Dea holds up a stuffed fish, making a joke about "frozen fish."
Picture 4: Lake Orion Troop 128G competes in a game of giant Jenga.
Picture 5: Lake Orion Troop 128B races to assemble a tent.
Picture 6: Troop 128G pulls a modified sled, converted into a chariot of sorts.
Picture 7: Wheeled sleds race against Manny the Moose, carried by Liam O'Dea.