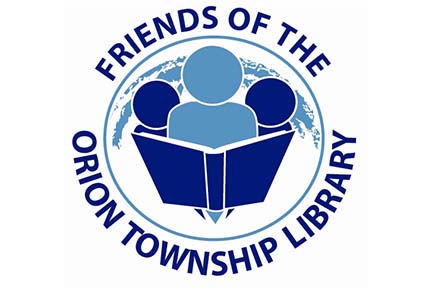 Media contact: Carla Tousley, treasurer
FOR IMMEDIATE RELEASE
Friends of the Orion Township Library Holiday Silent Auction
Monday, October 31 – Saturday, November 19. 2022
(Lake Orion, Mich.) October 17, 2022 – The Friends of the Orion Township Library will be hosting its annual Holiday Silent Auction at the Orion Township Public at 825 Joslyn Road, Lake Orion, from Monday, October 31 through Saturday, November 19, 2022. Items will be displayed with bid sheets on the tables in the Friends Reading Room off the library lobby throughout the silent auction dates.  Bidding begins at 10 a.m. on the 31st and concludes at Noon on the 19th.
"Our holiday silent auction is a key fundraiser that helps the Friends support library programs," said Donald Walker, President for the Friends of the Orion Township Library. "It's a great way for patrons of the library to kick off their holiday shopping and at the same time, the winning bids help us raise programming funds for the library." 
There is no admission fee to the Friends Holiday Silent Auction. Winning bidders can pay with cash, check or credit card at the library service desk beginning at 12 p.m. on Saturday, November 19 at the close of bidding. Baskets must be claimed by Friday, December 2. 
 "Last year we offered 58 baskets and unique items for bid at our holiday auction," said Walker. "We are so thankful for our local business and partners who so generously give and partner with us to support the library."
Becoming a member of the Friends:
The Orion Township Library is located at 825 Joslyn Road, Lake Orion. Please contact the library at 248-693-3000 or visit orionlibrary.org/friends to learn more about the Friends, events and how to become a member.
About the Friends
The Friends are a 501 (c) 3 non profit organization that was started in 1989 "to promote public support of the Orion Township Public Library and the library in the community, to promote reading, literacy and lifelong learning, and to maintain an association of persons interested in the library." Friends act in cooperation with the library board and staff, serving as a liaison between the community and library. All money raised by the Friends, except for minimal administrative costs such as postage and printing, is donated directly to the library in the way of program funding, material purchases and monetary contributions.